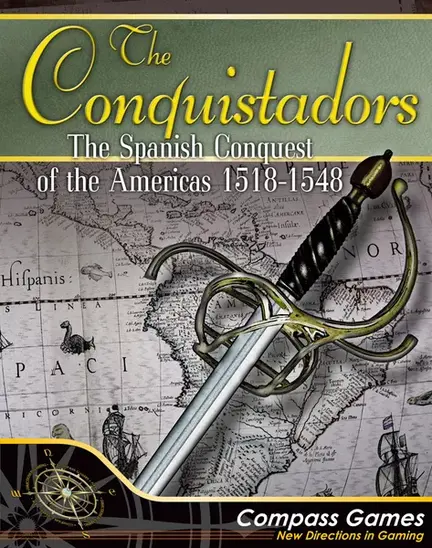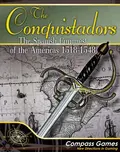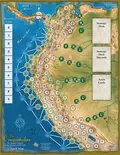 The Conquistadors: The Spanish Conquest of the Americas 1518-1548
729,00 kr.
Varenummer: CPS1120
Et halvt århundrede efter Columbus, erobrede små grupper af dristige spanske eventyrere Central- og Sydamerika og ødelagde de enorme hære af etablerede indfødte imperier i processen.
Nogle vandt store formuer i guld, mens mange andre kun døde en tidlig død.
Disse mænd var The Conquistadors.
Antal spiller: 1 - 5 / Spilletid: 180 - 360 Min. / Alder: 16+ / Sværhedsgrad: Medium / Udgivet 2020
Andre vare fra Compass Games

Priser er inkl. moms
In this partly card-driven, partly procedural game —a brand-new design from Jon Southard — one to five players each control a group of conquistadors, trying to discover and loot the civilizations of the Americas and end up with the most gold and power.
A game of The Conquistadors begins with the outline of Central and South America as known in 1520.
Your first task will be to seek out and discover the great Indian cities and empires -- which may appear in their historical locations, or in quite different places.
Once you discover where the cities and empires are, it is time to gather gold.
You might battle and plunder the Indians, or your best plan may be to attempt diplomacy and enlist them as allies -- especially if you have an Indian interpreter in your expedition.
Like Francisco Pizarro, you might try a Sudden Shock Attack to capture a native king and extort a fat ransom.
Always you must be sure to keep the Governor happy, or he may issue a warrant for your arrest.
Beware of native uprisings, painted warriors, and poisoned darts around the next corner, and watch out for defection in your own ranks.
If you fall behind in the race for gold, you might try to descend the Amazon or discover the Fountain of Youth.
And when you are really in a tight place, perhaps you can appeal to Mano de Dios (the Hand of God) to bail you out.
The Conquistadors is playable by from 1 to 5 players, with an introductory Basic Game, a more involved Standard Game, and some optional rules. While the normal game system requires 2 or more players, solitaire play is enabled by a special solitaire module.
For regler: TRYK HER
Unboxing:
Spil gennemgang:
Two Maps – each approximately 28 x 20″
Two Countersheets (5/8" size)
Deck of 130 Strategy/Conquistador Cards
Deck of 26 Asset Cards
Rules booklet
Four Player Aid Cards
One Logsheet 8.5" x 11"
Two 6-sided dice
Box and Lid