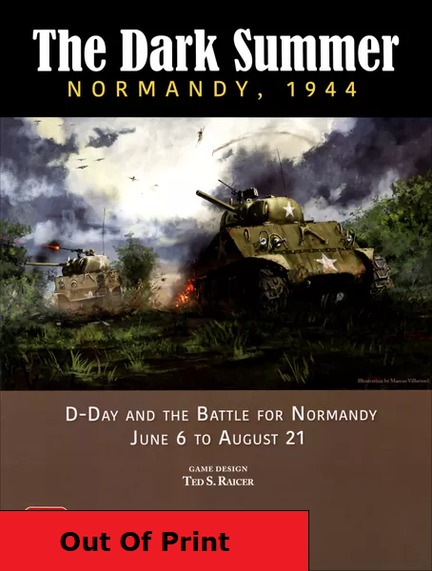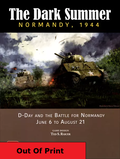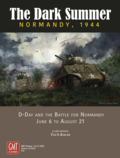 The Dark Summer
460,00 kr.
Varenummer: GMT2101
Den 6. juni 1944 landede de vestlige allierede i Normandiet, og efter blodige kampe fik de stedfæste i det nazistiske Frankrig.

Antal spiller: 2 / spilletid: 480 Min. / Alder: 12+ / Sværhedsgrad: Medium / Udgivet 2021
Andre vare fra GMT Games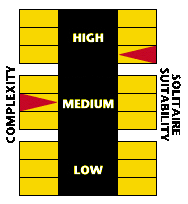 Varen kan desværre ikke købes, da der ikke er flere på lager
Beskrivelse
Indeholder:
English:
Fanget og lammet af både de allieredes luftoverlegenhed og Hitlers indblanding, stillede tyskerne under feltmarskal Rommel ikke desto mindre et voldsomt forsvar op, der truede med at gøre hver hegn og sluse i Normandiet til et dødvande sidst set i første verdenskrig.
Først efter tre blodige måneder knuste de allierede det tyske forsvar og brød ud for at indtage Frankrig, Belgien og dele af Holland.
På trods af forfærdelige tab undslap tyskerne alligevel "lommen ved Falaise" for igen at standse de allierede ved den tyske grænse.
Den mørke sommer 1944 ville blive efterfulgt af en endnu mørkere vinter.

The Dark Summer: Normandy 1944 er et spil med moderat kompleksitet, men dækker ikke desto mindre alle de vigtigste elementer i kampagnen.
Der er regler for D-Day-landinger, uforsøgte tyske holdepunkter, Ost-bataljoner, allierede tac-air og tæppebombning, allierede artillerioverlegenhed, tyske nebelwerfer- og flak-kanoner, allieret flådestøtte, erobring af Cherbourg, eksisterende og genetableringer på kortet, variabel landsætninger og mulig forsinkelse af begge siders forstærkninger.

For regler: TRYK HER


Unboxing:
COMPONENTS:

1 22" by 34" large-hex map
384 9/16" counters
1 Rulebook
1 Playbook
3 Player-Aids Cards
1 six-sided die
On 6 June 1944, the western Allies landed in Normandy, and after bloody fighting, gained a lodgement in Nazi-occupied France. Caught off-guard and crippled by both Allied air superiority and Hitler's interference, the Germans under Field Marshal Rommel nevertheless put up a ferocious defense that threatened to turn the hedgerows of Normandy into a WWI stalemate. Only after three bloody months did the Allies shatter the German defenses, breaking out to overrun France, Belgium, and parts of Holland. Yet, despite horrible losses, enough Germans escaped the "Pocket at Falaise" to halt the Allies at the German border. The dark summer of 1944 would be followed by an even darker winter.
The Dark Summer: Normandy 1944 is the latest in Ted S. Raicer's WWII operational series that began with The Dark Valley: The East Front Campaign 1941-45. The game uses a chit-pull activation system that determines both the order and type of each sides' actions during the game's ten action-packed turns, covering June 6 to August 21, 1944.
The availability of Action Round chits (for the Germans, and separately for the British and US forces) is itself determined by the draw of Weather chits, one per turn, which reflect the importance of weather on the effectiveness of Allied air superiority and Allied shipping across the Channel. Weather also determines the number of German Reaction markers, which allow limited response to Allied actions. The "Dark" chit pull system makes The Dark Summer an excellent game for solo play, while keeping both players involved in face-to-face play.
The single map extends from just south of Cherbourg (itself covered by a Cherbourg Box) southwest to Avranches and southeast to Alencon, allowing players to recreate the entire campaign from D-Day to the closing of the Falaise gap in late August. Units are mostly regiment/brigades, with a few battalions, but German mechanized forces are presented as operational kampfgruppen.
Victory is determined by the Allies capturing Cherbourg, exiting units to Brittany and Paris, and preventing the exiting of German units, but the Allies win a sudden death victory if they capture all the cities on the map before Turn 10 and the Germans win a sudden death victory by closing down any three Allied Beaches, two of which must be contiguous. The unknown activation sequence means the Allies cannot take the safety of their landing beaches for granted in June!
The Dark Summer: Normandy 1944 is a game of moderate complexity, but nevertheless covers all the most important elements of the campaign. There are rules for the D-Day Landings, untried German strong-points and Ost battalions, Allied tac-air and carpet bombing, Allied artillery superiority, German nebelwerfer and flak guns, Allied naval support, the conquest of Cherbourg, exiting and re-entering the map, and variable entry and possible delay of both side's reinforcements.
A game on an epic campaign that is playable in a single day's gaming and with a small footprint that will allow it to be left set-up for solo study, The Dark Summer: Normandy 1944 is a must-have for fans of WWII operational games, the "Dark" system, or students of the campaign for northwest Europe.