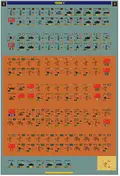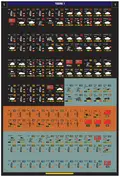 Tiger In The Snow
250,00 kr.
Varenummer: OTTO015
I februar og marts 1943 indledte tyskerne det massive modangreb mod de sovjetiske styrker nær Kharkiv.
Elite SS-divisioner forårsagede de store tab blandt fjendtlige enheder og tab af forsyningsbaser, og Kharkiv var et stort nederlag for de sovjetiske kommandanter, der netop havde planlagde deres angreb mod vest.
Antal spiller: 2 - 4 / Spilletid: 120 - 260 Min. / Alder: 14+ / Sværhedsgrad: Medium / Gen. udgivet. 2016
Andre vare fra TS Tactics And Strategy

Priser er inkl. moms
The game covers German attack on Kharkiv and further attack at Bielgorod.
Major ally of the Soviets is terrain that helps defenders at some areas.
Game is very dynamic and forces players to make a lot of risky decisions about both attacking and defending.