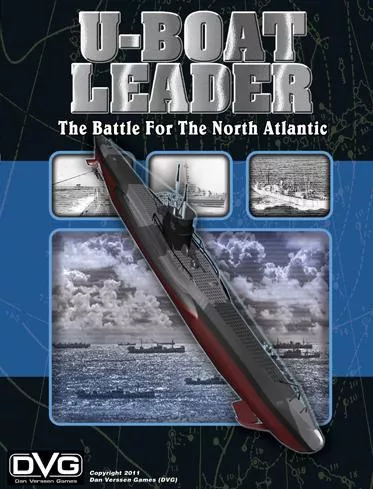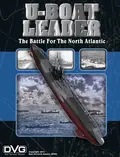 U-boat Leader 2 Edition
649,00 kr.
Varenummer: DV1-016
Priser er inkl. moms
Beskrivelse
Indeholder:
Video:
English:
Slaget om Atlanterhavet var den længste kontinuerlige kampagne under Anden Verdenskrig, der løb fra 1939 til Tysklands nederlag i 1945.
Det involverede tusinder af skibe og involverede hundredvis af konvojkampe og enkeltskib møder.
Under kampen skiftede fordelen frem og tilbage mellem U-både og de allierede, da nye våben, taktikker og modforanstaltninger blev udviklet og implementeret.

U-Boat Leader tager Leader-serien til nye dybder, så spillerne kan styre en gruppe U-både på missioner i Atlanterhavet.
Spillets basis-system vil være kendt for spillere i andre Leader spil, så de hurtigt kan komme ind i spillet.

En stor del af spillet er at bestemme, hvor du skal sende dine ubåde.
Koncentrerer du dine ubåde i et eller to områder for at danne ulveflokke eller sprede dem ud i sejlruterne for at øge chancerne for at finde kontakter, eller sender du dem på særlige missioner (f.eks. Minelægning)?
Du kan også bruge Special Operations Points til at understøtte dine ubåde ved at tilføje søgefly til at finde fjendtlige skibe eller ved at sende forsyningsskibe og subs (Milk Cows) for at forlænge ubådens udholdenhed.
Under længere kampagner skal du styre U-bådens patruljerotation.

Når en patruljerende U-båd kommer i kontakt med en fjendtlig styrke, kan den kalde andre både i den samme patruljezone for at danne en ulveflok eller angribe alene.
Handlingen skifter derefter til det taktiske display, hvor U-bådene forsøger at komme tættere på og angribe handelsskibene, mens de undgår eskorterende krigsskibe.
Når et angreb starter vil du have en idé om antallet og den generelle type skibe i gruppen, men du skal tættere på skibene for faktisk at identificere dem.

U-boat inkludere følgende typer:

Type IIB/C coastal submarines
Type VII A/B/C Atlantic submarines
Type IX A/B/C long-range submarines
Type XXI Elektro-boat
U-Boat Leader inkludere fire kampagner, der dækker forskellige stadier af slaget ved Atlanterhavet:
The Battle Begins:
dækker operationer i starten af Anden Verdenskrig til omkring midten af 1940.
The Happy Time:
dækker perioden fra midten af 1940 til midten af 1941, hvor U-både og ulveflokke dominerede havene.
Operation Drumbeat:
dækker operationer ud for den amerikanske kyst og i Caribien i begyndelsen af 1942.
The Hunted:
dækker den periode, hvor tiden begynder at vende mod U-både.
U-Boat Leader er det perfekte spil for fans af anden verdenskrig, ubådsspil, Leader spil og solo.
Unboxing:
Component List:
165 Full Color Cards
264 Full Color Counters
4 Campaign Sheets
Tactical Display Map
Player Aid Sheet
The Battle of the Atlantic was the longest continuous campaign of World War II running from 1939 through to the defeat of Germany in 1945. It involved thousands of ships, stretched over hundreds of miles of ocean, and involved hundreds of convoy battles and single-ship encounters. During the struggle advantage switched back and forth between the U-boats and Allies as new weapons, tactics, and countermeasures were developed and implemented.
U-Boat Leader takes the Leader series to new depths, letting players control a group of U-boats on missions in the Atlantic. The core system of the game will be familiar to players of other Leader games, allowing them to quickly get into the game.
A major portion of the game is determining where to send your submarines. Do you concentrate your submarines in one or two areas to form wolfpacks or spread them out in the shipping lanes to increase the chances of finding contacts, or do you send them on special missions (such as mine-laying)? You can also spend Special Operations Points to support your submarines by adding search planes to help find enemy ships or by sending supply ships and subs (Milk Cows) to extend the endurance of the submarines. During longer campaigns you need to manage the U-boat patrol rotation to keep subs on station.
When a patrolling U-boat comes into contact with an enemy force it can call other boats in the same patrol zone to form a wolfpack or attack alone. The action then shifts to the tactical display where the U-boats try to close with and attack merchants while avoiding the escorting warships. When an attack starts you will have an idea of the number and general type of ships in the group, but you have to close with the ships to actually identify the ships.
U-Boat Leader includes the following type of U-boats:
Type IIB/C coastal submarines
Type VII A/B/C Atlantic submarines
Type IX A/B/C long-range submarines
Type XXI Elektro-boat
U-Boat Leader includes four campaigns covering different stages of the Battle of the Atlantic:
The Battle Begins: covering operations at the start of World War II to about mid-1940.
The Happy Time: covering the period from mid-1940 to mid-1941 when the U-boats and wolfpacks dominated the seas.
Operation Drumbeat: covering operations off the American coast and in the Caribbean in early 1942.
The Hunted: covering the time period when the tide starts to turn against the U-boats.