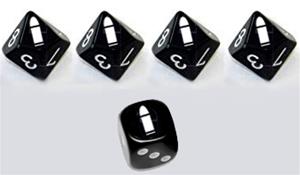 Warfighter New Bullet Dice
149,00 kr.
Varenummer: DV1-030AY
I denne pakke får du fire 10-sidet og en 6-sidet terning, med patron symbol for det højeste nummer på hver terning.
Andre vare fra Dan Verssen Games


Priser er inkl. moms
This Bullet Dice Expansion gives you Four 10-Sided Dice and one 6-Sided Dice with a bullet symbol on the high number of each dice.