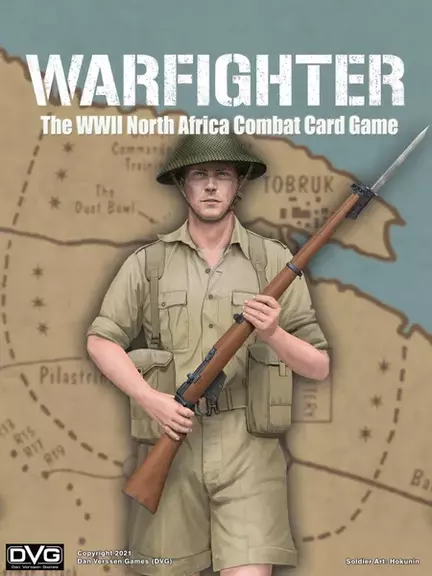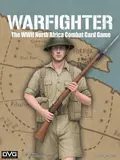 Warfighter: The WWII North African Combat Card Game
580,00 kr.
Varenummer: DVG036BX
Warfighter is a card game for 1 to 6 players. You can play solo or cooperatively with your friends against the system to complete World War II squad-level combat missions, set in the Mediterranean Theatre of Operations (MTO) in North Africa.
Antal spiller: 1 - 6 / Spilletid: 30 - 180 Min. / Alder: 12+ /Sværhedsgrad: Medium / Udgivet 2023
Andre vare fra Dan Verssen Games

Priser er inkl. moms
The core game gives you a full team of British 8th Army Soldiers. Expansion then adds to these sets.
This includes the soldiers, weapons, equipment, and tactics used by each of those nations. Everything you need to create your own unique squad of soldiers!
At the start of each mission, you each select one or more Player Soldiers, equip them with skills, weapons, and combat gear within the mission's Resource limit. You then fight your way through hostile territory and engage enemy soldiers, as you attempt to reach and complete your mission objective. Every mission is a stand-alone game. You build your Soldiers, select your Gear, and then run your mission. Within 30 to 60 minutes you will have succeeded or failed.
The contents of this set includes:
280 cards comprising:
5 UK Player Soldiers / 3 Team Soldiers / 5 Non-Player Soldiers / 5 Squad Soldiers / 2 Squad Light Vehicles
8 Missions / 8 Objectives / 16 Locations
14 Weapons / 12 Gear
22 Skills / 6 Situation / 4 Service Records
80 Action / 13 Location Markers
66 German Hostiles / 11 Events
6 counter sheets with 516 counters
d6 and d10 dice
Mounted display board
Warfighter Universal Rulebook
As with all Warfighter products, Warfighter: North Africa is compatible with all other Warfighter products, especially the Europe, Pacific and Mediterranean WWII core boxes.