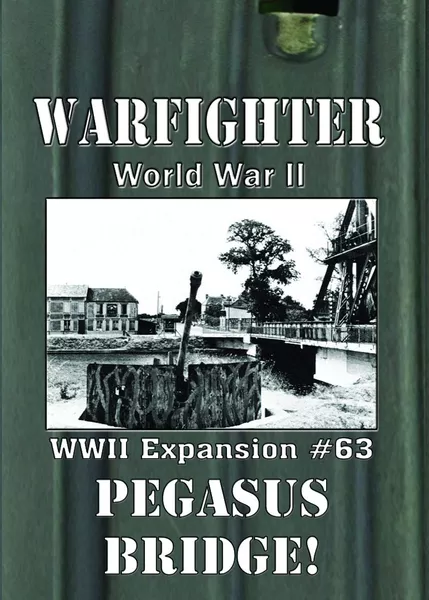 Warfighter: WWII Expansion #63 – Pegasus Bridge
221,00 kr.
Varenummer: DVGDV1-036BT
Warfighter: WWII Expansion #63 – Pegasus Bridge adds 56 cards to your Warfighter WWII Missions! This is a Soldier pack with new Hostiles, Soldiers, Locations, Missions, Objectives, Weapons, Equipment, and Skills.
Andre vare fra Dan Verssen Games

Priser er inkl. moms
Seize the bridges over the River Orne and Caen Canal at Bénouville and Ranville intact and hold them until relieved.
- Order given to Major John Howard, D Company, Ox and Bucks for his D-Day mission, June 6th, 1944.
At 0016 June 6th, 1944 the men of D Company, Ox and Bucks, landed in Horsa gliders within yards of two vital bridges spanning the River Orne and the Caen Canal in a coup de main operation intended to both prevent any German reinforcements reaching the landing beaches and allow for a rapid occupation of the city of Caen. Recreate the fast, deadly action that led to the capture of Pegasus Bridge before you repulse the enemy counter-attack. Command historical figures such as Major John Howard and Lieutenant Den Brotheridge (25 Platoon) as they liberate the Café Gondrée and eliminate the sniper operating from the Château de Bénouville.
Info taken from the designers Facebook post 5 Apr 2021
2x PS (Howard and Brotheridge),
2x NPS (Thornton and Parr),
2x Squad (Gray and Clarke).
The battle pack commences with the troops already landed, with decent ratings (confined by balance issues).
5x Missions: Capture the Bridge, Liberate the Gondree Cafe, Clear the Trenches. Skip forward to Repel the Counter - Attack (1st PzJager supported by AFV) and finally eliminate the sniper (not quite historically accurate).
The next wave of battle packs the Paras will then arrive to reinforce D Company and the men will be in action for the rest of the day!! (but not in this pack...)
Locations are only Benouville and the trench system in this pack.
Weapons are taken from the UK Airborne pack, along with the Skill Keep Calm.
I have tried to be as historically accurate as possible (without destroying balance) rather than introducing new stuff for the sake of it :)