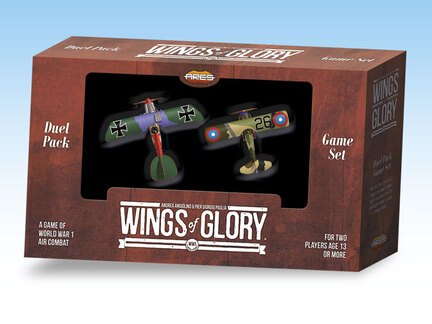 Wings of Glory: WW1 Duel Pack - Albatros D.Va vs Spad XIII
275,00 kr.
Varenummer: AGSWGF001B
Wings of Glory ™ er et spilsystem, der gør det muligt for spillere at genskabe luftkampe under 1. verdenskrig ved hjælp af kort og miniaturer til at repræsentere flyene og deres manøvrer.
I Wings of Glory vil spillerne styre et eller flere fly, tage til himlen for at engagere deres modstandere i luftdueller eller forsøge at udføre en bestemt mission, såsom rekonstruktion, ledsagelse eller bombning.

Antal Spiller: 2 / Spilletid: 30 min. / Alder: 13+ / Level: Medium/Light / Engelsk manual / Gen. Udgivet 2021
Varen kan desværre ikke købes, da der ikke er flere på lager
Beskrivelse
Indeholder:
English:
WW1 Wings of Glory Duel Pack er det ideelle udgangspunkt for at spille Wings of Glory.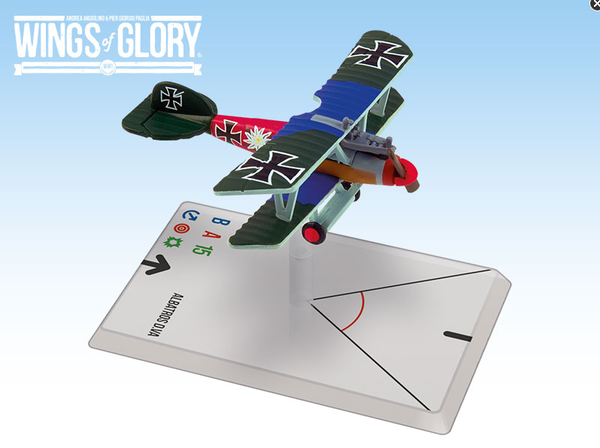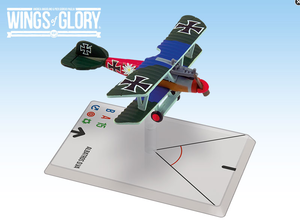 Det indeholder alt, hvad du har brug for for at begynde at spille: en regelbog med grundlæggende og standardregler, manøvre- og skadeskort, 40 brikker, to mållinealer, to flykonsoller og to flyvemaskiner, med særlige spillebaser i 1/144 skala, fuldt samlet og malet.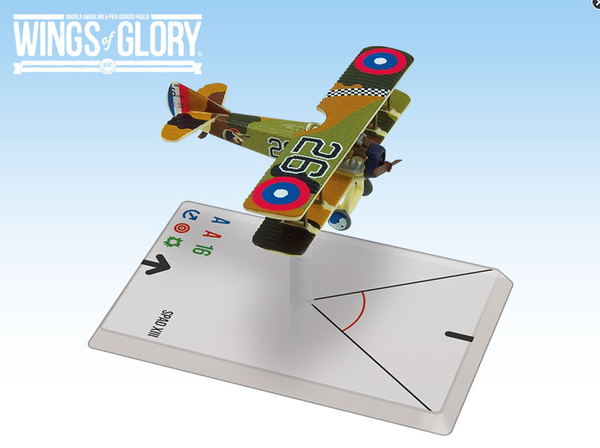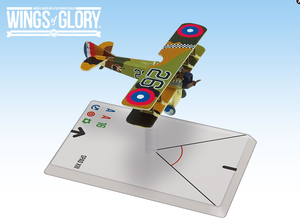 Pakken indeholder også Target, Trench og Anti Aircraft Machine Gun-kort til at spille en række forskellige scenarier.
For download af regler: TRYK HER
Se også: Flemmings Blog
Intro, se under faner for indhold i denne pakke.
SOLO:
Two 1/144 scale model
Flight stands with game stats
Altitude stands
Airplane cards
Maneuver, Damage and Special cards
40 counters
2 measuring rulers
2 airplane consoles
Rulebook (Basic/Standard rules)
Wings of Glory™ is a game system that allows players to recreate aerial combat during World War I and II, using cards and miniatures to represent the airplanes and their maneuvers. In Wings of Glory players will control one or more airplanes, taking to the skies to engage their opponents in aerial duels, or trying to carry out a specific mission, such as recon, escort, or bombing.
WW1 Wings of Glory Duel Pack is the ideal starting point to play Wings of Glory. It includes everything you need to start playing: a rulebook with Basic and Standard rules, maneuver and damage cards, 40 counters, two measuring rulers, two airplane consoles and two airplanes, with special gaming bases, in 1/144 scale, fully assembled and painted. The pack also features Target, Trench and Anti Aircraft Machine Gun cards, to play a number of different scenarios.