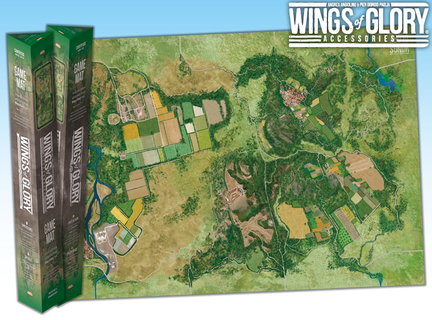 Wings Of Glory Game Mat Countryside
315,00 kr.
Varenummer: AGSWGA502A
Wings of Glory®-måtterne er et modulært system designet til at give dig den ultimative spiloverflade til dine luftkampe, der er velegnet til både WW1 og WW2-spil.
Andre vare fra Ares Games

Varen kan desværre ikke købes, da der ikke er flere på lager
Forskellige stilarter er tilgængelige, hver af dem kompatible med alle andre Wings of Glory Game Mats.
Hver måtte er 68 x 98 cm (27 "x 39") i størrelse. Du kan sætte to, fire eller endda flere Game Mats sammen i den kombination du foretrækker, for at skabe en større slagmark.
Wings of Glory Game Mats er trykt i fuld farve på et ekstra tykt skum dækket med specielt væv. De kan rulles sammen for nem opbevaring og forbliver helt flade, når de åbnes.
Landskab viser et typisk europæisk semi-landligt landskab, som du kunne finde på den vestlige eller italienske front.
The Wings of Glory® game mats are a modular system designed to provide you with the ultimate gaming surface for your aerial battles, suitable both for WW1 and WW2 gaming.
Different styles are available, each of them compatible with all other Wings of Glory Game Mats.
Each mat is 68 x 98 cm (27" x 39") in size. You can join two, four, or even more, Game Mats together, in the combination you prefer, to create a larger battlefield.
Wings of Glory Game Mats are printed in full color on an extra–thick foam covered with special tissue. They can be rolled up for easy storage and will remain perfectly flat when opened.
Countryside shows a typical European semi–rural landscape, as you could find on the Western or Italian front.