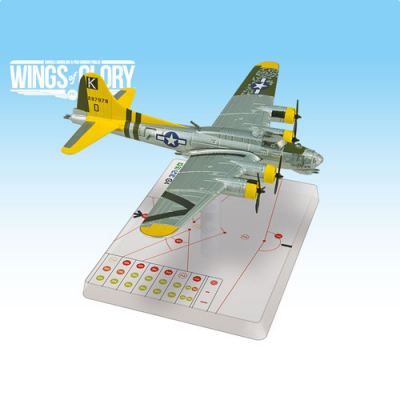 Wings of Glory: WW2 Airplane Pack - B-17G (A Bit O'Lace)
300,00 kr.
Varenummer: AGSWGS303B
The Boeing B-17 "Flying Fortress" is a four-engine heavy bomber aircraft developed in the 1930s for the United States Army Air Corps (USAAC).
The B-17 was primarily employed in the daylight precision strategic bombing campaign of World War II against German industrial and military targets.
The B-17G is generally considered the definitive B-17 design, incorporating all changes made in the B-17F.
"A Bit o' Lace" is possibly the most famous B-17G ever – It flew 83 missions over Europe, and featured art by cartoonist Milton Caniff as a decoration.
Andre vare fra Ares Games

Priser er inkl. moms
Designed to be used with the popular air combat game system created by Andrea Angiolino and Pier Giorgio Paglia, each WW2 Wings of Glory® Special Pack is a ready-to-play large size model, painted and assembled, 100% compatible with any other WW2 Wings of Glory game product.
This is not a complete game.
To play, you must own a WW2 Rules and Accessories Pack.
One 1/200 scale model
Flight stand with game stats
Altitude stands
Airplane cards
Maneuver cards
Industrial Complex card and rules
Counters
Rules