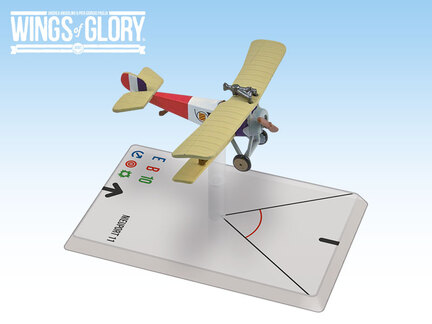 Wings Of Glory WWI Nieuport 11 De Turenne
160,75 kr.
Varenummer: AGSWGF122B
The Nieuport 11, a single seat fighter, was affectionately known as the "Bébé" (Baby).
Andre vare fra Ares Games

Priser er inkl. moms
This is not a complete game.
To play, you must own a WW1 Rules and Accessories Pack or WW1 Duel Pack.
It was developed from the Nieuport 10, originally designed by Gustave Delage for racing to compete with the Morane N, as it was fast and extremely maneuverable.
It was called "Bébé" because it was a lightweight, reduced size version of the Nieuport 10.
This aircraft saw service with several of France's allies, and gave rise to the series of "Vee-strut" Nieuport fighters, remained in service until 1920s as a trainer plane.