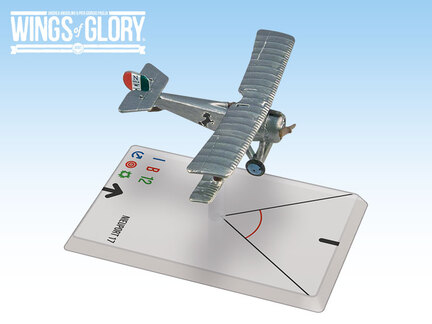 Wings of Glory: WWI Nieuport 17 Baracca
200,00 kr.
Varenummer: AGSWGF117A
Nieuport 17 (Baracca)
Francesco Baracca was Italy's top ace of World War I, with 34 kills, several of them in this Nieuport 17.
His "prancing horse" symbol was later adopted by Ferrari.
Andre vare fra Ares Games

Priser er inkl. moms
The Nieuport 17 was a nimble fighter, first released in March 1916.
Its excellent maneuverability made a big impact.
It soon equipped all of the French fighter squadrons, served as a top British fighter for a year, and was even copied by the Germans!
The "sesquiplane" design (a "half" lower wing) gave excellent climb and visibility, but was a weakness in stressful maneuvers.
A favorite of aces, the Nieuport 17 was produced in France, Italy, and Russia and used by all Allied armies until late 1917.
This is not a complete game.
To play, you must own a WW1 Rules and Accessories Pack or WW1 Duel Pack.