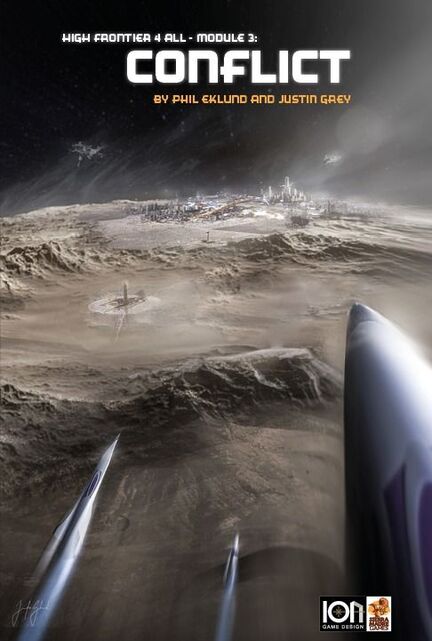 High Frontier 4 All: Module 3 – Conflict
145,00 kr.
Varenummer: SMG28-43
Priser er inkl. moms
High Frontier arven med at simulere personlige og menneskelige gevinster, tillader en vision om en uafhængighedskrig baseret på de ideologiske og økonomiske spørgsmål der motiverer hver soldat, og spørgsmål der er langt mere holdbare end ressourcer eller territorium.
I modsætning til et traditionelt krigsspil, hvor du pligtmæssigt kæmper for en tildelt side, kastes du her ud i en mørk skov af centraliserede regler og korrupte bureaukrater med heroiske slag, kapitulation, afpresning, fejhed, forræderi eller forræderiske forhandlinger med fjenden for personlig gevinst.
Vil du henrette dine krigsfanger, tabe virkelig store klipper på civile mål eller blive Benedict Arnold? Krigens resultat vil permanent ændre menneskehedens fremtidige forløb i rummet.
Does Module 3 make High Frontier into the most comprehensive wargame ever, without changing its core mercantile character?
The High Frontier legacy of simulating personal and human gains allows a vision of a War of Independence based on the ideological and economic issues motivating each soldier, issues far more long-lasting than resources or territory.
Unlike a traditional wargame in which you dutifully fight for an assigned side, here you are thrown into a dark forest of centralized regulations and corrupt bureaucrats, rife with heroic battles, capitulation, blackmail, cowardice, treachery, or treasonous negotiations with the enemy for personal gain.
Will you execute your POWs, drop really big rocks on civilian targets, or become Benedict Arnold? The War's outcome will permanently change the future course of humanity in space.